Anne Davey-Smith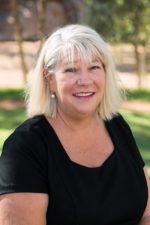 Sales Consultant
Anne has lived and worked in the Northern Territory since 1986.  In that time Anne has held a variety of positions in different industries, giving her a great insight to the lifestyle offered here.
Many of you would know Anne as the Owner, Licensed Conveyancer of Absolute Conveyance which operated for 10 years in Alice Springs.  Since closing the business in 2014 Anne has continued to work in the Real Estate Industry working in the Finance and Sales area.
Anne's enthusiasm and love of the Territory is something she loves to share, and her clients all say she is honest and hardworking, and a pleasure to work with.
For all your real estate needs, be it to view or sell a property, or get some history on the housing market in Alice Springs, Anne should on your contact list.
08 8950 3200
08 8952 1819
0427 555 766