Jane Baldwin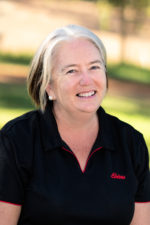 Property Manager
Moving into Alice Springs after a number of years managing cattle stations Jane and her husband wanted to continue the love of the Red Centre. Growing their own business and the children starting their secondary education at St Philips the decision was made to purchase a property in Alice. Embracing a town lifestyle as a family they support many local events and hold positions on a number of committees.
Encouraging the next generation to support the growth of Alice and community events is important to Jane. Helping others to achieve their goals and enjoying the company of family and  friends is important to positive lifestyle in the Red Centre.
Embracing a new direction in the work force Jane has joined Elders Real Estate. Delivering a high quality of service for customers and clients is a driving force behind Janes desires to learn everything about her role in property management.
08 8950 3200
08 8952 1819
0409 264 132